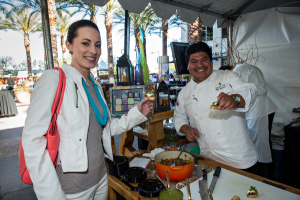 The Valley's stars of the culinary scene will gather again this year for AzLTA's Sixth Annual culinary event:
AZ Wine & Dine
April 13, 2016
5:00PM-8:00PM
Scottsdale Quarter
AZ Wine & Dine is not just a food fest; it's a foodie fest, as it boasts 20 of the Valley's top resort and hotel restaurants, plus several Scottsdale Quarter favorites and a stellar selection of wine and craft beer.  Each restaurant booth features a winery offering at least two different varietals that are beautifully paired with the delectable dishes, providing a perfect opportunity to discover new flavors and new favorites. We couldn't be more proud of how this event showcases our participating member properties.  For a complete list of participants please visit www.azwineanddine.com
Thank you to our event sponsors who can also be found at www.azwineanddine.com and you can follow @azwineanddine on Twitter or "Like" AZ Wine & Dine on Facebook for regular updates.