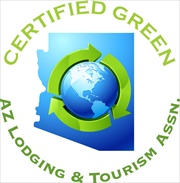 BECOME CERTIFIED GREEN AND RECEIVE COUNTLESS BENEFITS:
Approved use of AzLTA's Certified Green Lodging logo for marketing (website, literature, decals, etc).
A listing on the AzLTA and AZ Office of Tourism websites identifying your business as AzLTA Green Certified: www.stayinaz.com; and www.arizonaguide.com.
Complimentary listing and highlight for Green Certification in the next available printing of the Arizona Office Tourism Official State Visitors Guide, distributed to more than 100,000 potential visitors.
Knowing that your business is doing what it can to be more environmentally sustainable in your community.
Allowing AzLTA and its associates to let your guests know that you are committed to protecting the environment.
Preferred status with companies looking for Hotels practicing Corporate Responsibility.
How the program works:
Complete the self-certification workbook by checking off all of the initiatives that your facility is currently undertaking. It is available as a fillable Word document or a PDF file. If you need assistance filling out the Workbook, please call AzLTA at (602) 604-0729.
It is not necessary to complete all of the items in the workbook to become a certified Lodging Facility; the workbook is a comprehensive list of the many different ways to generate points. Employing all of the initiatives in this workbook is unrealistic, so please use the ones that you have not yet implemented as recommendations.
Calculate your estimated score by adding up all points in each section in the table at the end of the workbook.
Send the Compliance Agreement Page and Payment for Workbook Review and Annual Certification to AzLTA:
$100.00 for properties up to 150 rooms
$200.00 for properties 150-500 rooms
$500.00 for properties with 500+ rooms
Non-member properties incur an additional $500.00 fee per category
Send completed copies of the workbook preferably by e-mail, mail (double-sided copy) or fax to:
Arizona Lodging & Tourism Association
1240 E. Missouri Ave.
Phoenix, AZ 85014
Fax: (602) 604-0769
For specific information please contact us at info@azlta.com.
Your workbook will be reviewed and will receive a final score. If your business scores 150 points, you qualify for an automatic certification from AzLTA for two years (requiring annual payment renewals). In two years, you will need to show active initiative of sustainability improvements to be eligible for a re-certification.
If your business scores less than 150 points, your business is eligible for a provisional certification, which includes all the benefits of a fully certified business provided you agree to accumulate the remainder of the points within an agreed-upon time frame. Low cost recommendations will be given to help businesses achieve more points.
Upon final scoring of the workbook, you will be sent an official letter detailing your point total and possible low cost recommendations. The official notice of certification will allow you to display the Certified Green logo on a banner, flag, sticker or your letterhead and marketing materials.
AzLTA-ADEQ Green Lodging Self-Certification Workbook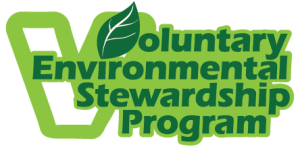 Allied and Tourism Members can become Certified Green by joining ADEQ's Voluntary Environmental Stewardship Program (VESP). This program identifies and rewards organizations that have a good history of compliance, and try to go above and beyond legal requirements. Upon completion, please provide a copy of certificate and payment of $100.00 to AzLTA at the address or fax number below.
Arizona Lodging & Tourism Association
1240 E. Missouri Ave.
Phoenix, AZ 85014
Fax: (602) 604-0769
For more information or to apply to VESP, visit www.azdeq.gov.