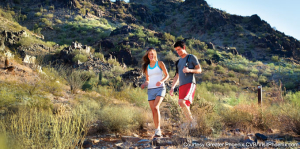 AzLTA has partnered with City of Phoenix Parks & Recreation and Phoenix Fire to advise visitors on the safest ways to experience our state's hiking trails. We encourage visitors to Take a Hike! Do it Right!
8 ways to stay safe on the trail
Watch the weather: Yes, it's a dry heat – but Arizona's temperature can be deceiving and deadly. Hike when it's cool outside, try early mornings and evenings when there's more shade.
Dress appropriately: Wear proper shoes, clothing, hat and sunscreen.
Bring water: Hydrate before you go. Have plenty of water — more than you think you need.
Keep in contact: Carry a mobile phone.
Team up: Hike with others. If hiking solo, tell someone your start and end times, and location.
Be honest: Do you have a medical condition? Asthma, heart problems, diabetes, knee or back problems? Don't push yourself. (Even trained athletes have been caught off guard by getting dehydrated on Arizona trails.)
Don't trailblaze: Enjoy the Sonoran Desert's beautiful and undeveloped landscape, but stay on designated trails.
Take responsibility: Don't be "that person" – the one who was unprepared, shouldn't have been there for health reasons or ignored safety guidelines. Be the responsible hiker, who takes a hike and does it right!
This safety message is designed to educate those who take to the city's trail system unprepared.
Is your Hotel in Compliance? Under Section 33-301 of the Arizona Revised Statues: Every keeper of a hotel, inn, boarding, lodging or apartment house, or auto camp, shall post in a conspicuous place in the office or public room, and in every bedroom of the establishment, a printed copy of sections 33-951 and 33-952, with a printed statement of charges by the day, week or month for meals, lodging or other items furnished. ORDER AZ LAW CARDS. Download the FILLABLE ORDER FORM. Minimum of 25 cards per order required.
What are Responsibilities and Rights as a Hotelier?
The Arizona Hotel & Lodging Association in partnership with Ogletree Deakins is proud to offer you the Arizona Hotel & Lodging Law Manual. This is a must have for any property. For members, please go to the "Members Only" area to download your complimentary copy.
Terrorism and the Hotel Industry: How to Fight Back Through Empowerment
The American Hotel & Lodging Association (AH&LA) and the US Department of Homeland Security (DHS) joined forces on an initiative to encourage and educate lodging employees to recognize, report, and react to suspicious and crisis situations that occur on property. DOWNLOAD Terrorism and Hotels
New Crib Regulation Compliance
The Consumer Protection Product Safety Commission (CPSC) has begun compliance inspections that will continue throughout 2014 to ensure hotels are complying with the final rules regarding mandatory standards for baby cribs that went into effect in December 2012. AH&LA encourages each property to review the regulations and ensure that cribs offered for consumer use are fully compliant. Visit the CPSC crib information center for details on the new standards and safe sleep practices for infants.
Please use the following links to obtain additional industry information and news:
Tourism Marketing Partners
Arizona Forward
Arizona Office of Tourism
Chandler Office of Tourism
City of Prescott
Cochise County Tourism Council
Flagstaff Convention & Visitors Bureau
Glendale Convention & Visitors Bureau
Lake Havasu Area Chamber of Commerce
Lake Havasu Hospitality Association
Lake Havasu City Convention & Visitors Bureau
Phoenix Sky Harbor International Airport
Sedona Chamber of Commerce & Tourism Bureau
Scottsdale Convention & Visitors Bureau
Tempe Tourism Office
Visit Mesa
Visit Phoenix
Visit Tucson
Yuma Convention & Visitors Bureau
Industry Links
ADA – Service Animals – Frequently Asked Questions
American Hotel & Lodging Association
Americans with Disabilities Act
Arizona Association of Bed & Breakfast Inns
Arizona Chamber of Commerce & Industry
Arizona Department of Homeland Security
Arizona Department of Liquor Licenses & Control
Arizona Department of Revenue
Arizona Department of Administration – Gov't In-State Travel Program
New 2016 State of AZ Per Diem Travel Rates, Meals Per Diem
Arizona Office of Tourism
AOT 2015 Statistics
Arizona Legislature
Industrial Commission of Arizona
State of Arizona
Mileage Reimbursement Government Rates
US Department of Labor – Wage & Hour Division