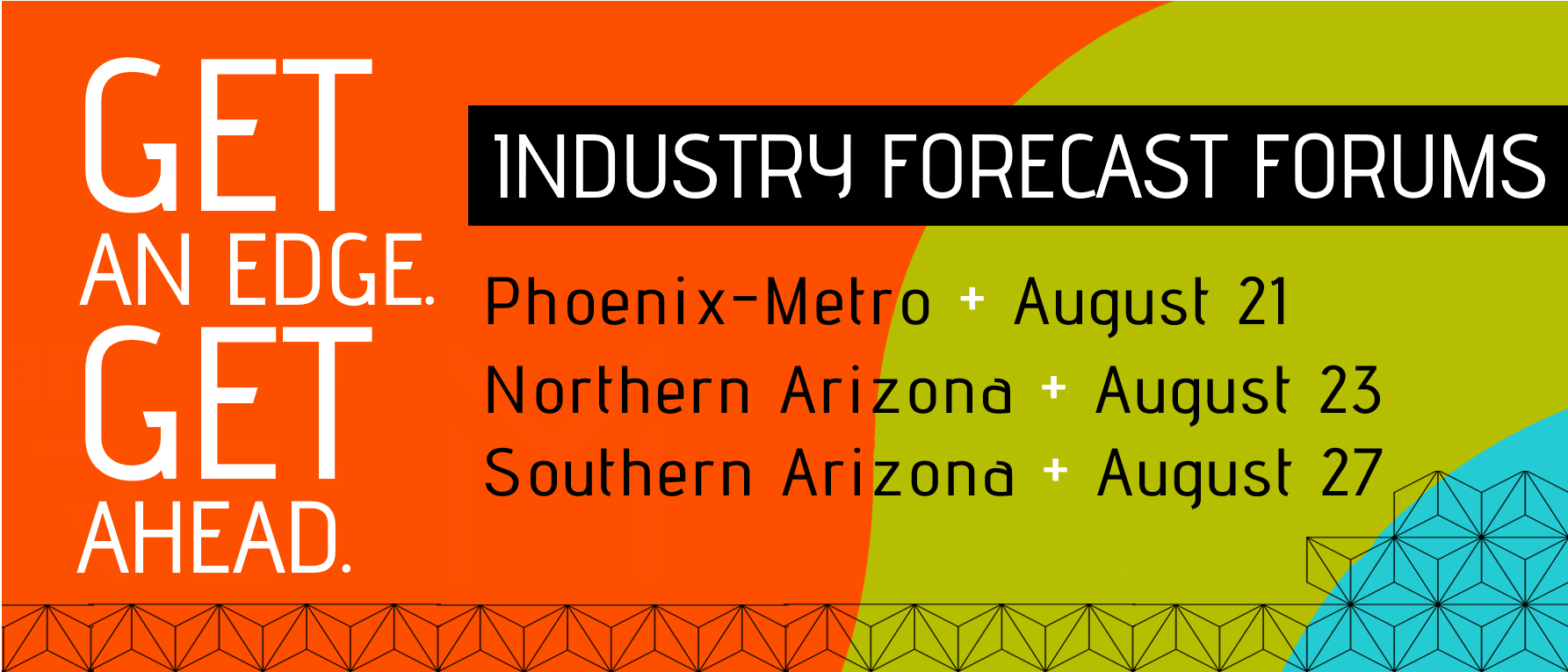 Industry Forecast Forums
Join the Arizona Lodging & Tourism Association and our statewide partners as we welcome STR, Inc. to present the 2020 Industry Forecast. We're pleased to offer three regional forums which provide invaluable insights into expected trends for Arizona's lodging and tourism industry in the coming year.
The presentations from STR will include region-specific, state and national analyses freshly updated and re-calibrated in mid-August with data and information to boost performance. All members attending will be equipped with the most up-to-date statistical industry information in preparation for 2020 planning and budgeting!
Phoenix – August 21
Northern Arizona – August 23
Southern Arizona – August 27
Schedule for all locations
Registration & Networking – 11:00am
Luncheon & Program – 12:00pm
Program ends – 1:30pm

Download sponsor and exhibitor opportunities here.
If you would like additional information regarding an exhibitor booth or sponsorship for any of the three forums – contact Darryl Emerson at demerson@azlta.com.

Please contact our office directly if you require an invoice for registration.
(602) 604-0729 or demerson@azlta.com
Phoenix-Metro
AUGUST 21, 2019
THE CAMBY
Phoenix, AZ
REGISTRATION HAS ENDED
FOR THE PHOENIX FORUM
We will be welcoming
walk-ins
Northern Arizona
AUGUST 23, 2019
HASSAYAMPA INN
Prescott, AZ

REGISTRATION ENDS
Wednesday at 12 noon
Southern Arizona
AUGUST 27, 2019
EL CONQUISTADOR, HILTON RESORT
Tucson, AZ

REGISTRATION ENDS
FRIDAY at 12 NOON
Northern Arizona
Member
$50.00
Enter Number of Attendees
Northern Arizona
Nonmember
$75.00
Enter Number of Attendees
Southern Arizona
Member
$50.00
Enter Number of Attendees
Southern Arizona
Nonmember
$75.00
Enter Number of Attendees